i've just about downloaded the complete season of tv series V, after 10 days is still not done yet, still have 0.2% which is about only 8mb, but there seem to be no seeder or peer with the balance of this file, poor me. total size is abt 4Gb++.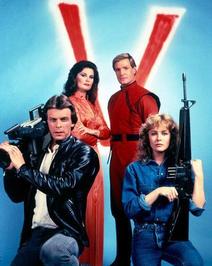 do you remember V, lizardnation try to rule earth, something like that. i watched chapter 1 last night, and the acting and special effects was omg, lame, but that was the early 80s, what do you expect. maybe i can convert to dvd and sell it in a 3-4 dvd pack and make some money for my effort, i think rm20 for a pack of 3-4 should be ok. interested? well first i need to get my winavi to work. everytime i convert some dvd shows, it tergantung, dont know why, convert vcd, ok, damn.
oh lucky me, as i was writing this blog, my bit commet just informed me that i have just completed downloading V. wheres the champagne. sky juice will do. yeepee.
yeepee? you guys ever played settlers 2? i believe there is settler 4 now, anyway i remember in settler 2, whenever the guy with white hair goes out to look for minerals, and if he found something, he'll exclaim yeepee!
anyway, my post today is about 2 insect, the roach and the praying mantis.
somehow a very large roach, it was large to me ok, abut 5-6cm i think appeared in my bathroom, we got rid of it of course, then the next day, a praying mantis. a roach is fine, but a praying mantis? i live in the city for crying out loud, where in the world did the praying mantis came from? did you know the mantis can fly? yes but rather slow and unstable, it tried to kill me i guess, as i was trying to get it out of my home. anyhow check out my national geography photos of my intruders.
come lipas i'm ready
that is encik lipas, monk
this one bonus photo, it's amoth right
shit the mantis bit my kkc, better run
ooi come back here you coward